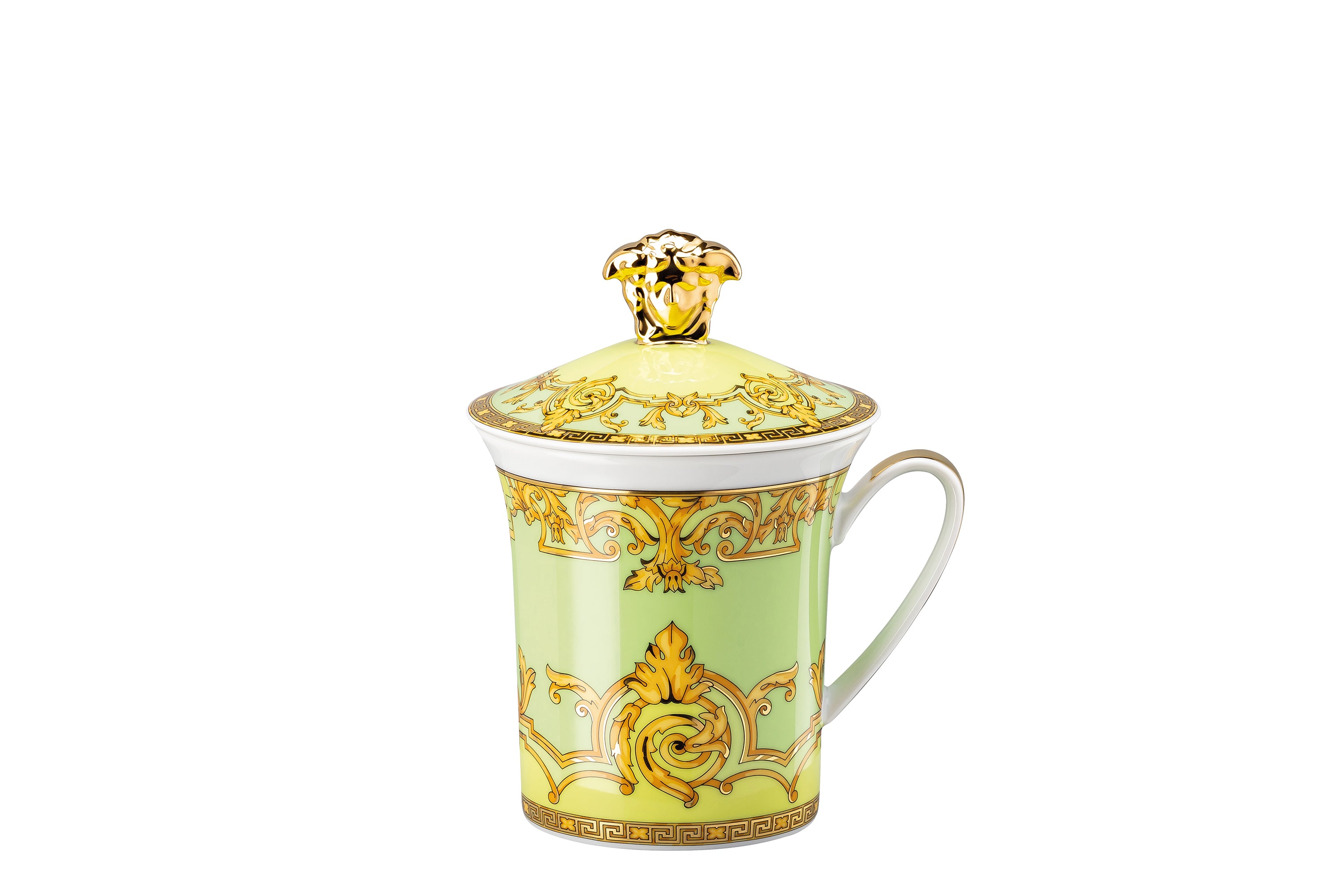 VERSACE | 30 Years Anniversary Mug with Lid - GREEN FLORALIA
Item No: 19315-409979-28700
The splendour of "Floralia Green" is formed by an unmistakeable and luxurious style, inspired by the ancient world and the Italian temperament. Influences from different cultures merge to create an extraordinary design; style elements from several eras join to form a lively, modern lifestyle.

30 Years Rosenthal x Versace Special Limited Edition: 2003 FLORALIA GREEN 
Material: Porcelain

Decor: Floralia Green
Origin: Germany
Height: 14.4cm
Width: 9.8cm
Length: 11.9cm
Diameter: 9.8cm
Capacity: 0.35 L
Weight: 309 gram
This product contains precious metals, it is not suitable for microwaves, oven or dishwasher. Hand wash only. 
---
Free shipping on orders over HK$500
Delivery Time: 2-5 working days
VERSACE | 30 Years Anniversary Mug with Lid - GREEN FLORALIA
30 Years of an iconic partnership
Rosenthal meets Versace
In 2023, Versace and Rosenthal celebrate the 30th anniversary of the collaboration between two great partners who, in their respective fields, are among the most renowned brands in the world. The collaboration has resulted in a wide range of the finest porcelain collections, enhanced by the most famous and beautiful Versace motifs and prints.
Limited Special Collection
To celebrate its 30th anniversary, Rosenthal meets Versace is launching a special collection limited until 31.12.2023: 30 mugs adorned with 30 legendary décors that tell the story of this extraordinary collaboration as a journey through time, space and cultures. The exquisite lids are adorned with a golden Medusa head - Versace's iconic symbol from the very beginning.
Learn more
Shipping
Shipping & Handling Rates
1. Shipping charges based on product weight and volume per order are calculated, if applicable.
2. We offer free delivery within Hong Kong for any order at net purchase of HKD500 or above.  
3. We offer free Macau and Taiwan delivery for any order at net purchase of HKD2160 or above or HKD380 delivery fee if below. 

4. For order below net purchase of HKD500, we will charge HKD100 delivery fee per order, only applicable within Hong Kong.
5. Delivery Service is not applicable to outlying islands.  Extra Delivery fee of HKD141 will be charged for location in Discovery Bay.  
6. For international deliveries (for applicable brands), shipping charges is based on product weight and volume and taxes (if any) per order are calculated, if applicable.
Estimated Delivery Time
The estimated delivery time is 2-5 working days upon receiving our payment confirmation email.  Not including public holiday and weekends.
The estimated delivery time is for reference only, actual delivery time may varies. Sometimes, payment, address verification, bad weather or force majeure event may cause an extra working days before your order can be shipped.
For international deliveries, we are not responsible for any taxes, charges and delays caused by customs clearance.